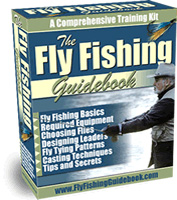 Not everyone is cut out to be a
fly fisherman
. It's not like bait casting or spin fishing. When you pick up a fly rod for the first time, you become a different person. You contract "Fly Fishing Fever," and your only hope is continual therapy and treatment.
Your life will never be the same.
You'll spend hours perfecting your cast while visions of rising Rainbow Trout,
Largemouth Bass
, and Pacific Salmon dance through your head.