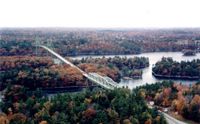 Enjoy the breathtaking view from the 1000 Islands Skydeck, see the 1000 Islands & St. Lawrence River
The 1000 Islands Skydeck is a unique tourist attraction, the only one of it's kind in the 1000 Islands. The Skydeck will show you the best of what the area has to offer.
Groups tours welcome.
Running continuously, the elevator takes only 40 seconds to reach the first (glass enclosed) of three observation decks and provide visitors with a spectacular photographic opportunity as they enjoy the panoramic view of the 1000 Islands and St Lawrence River stretched out 130 metres or 400' below.